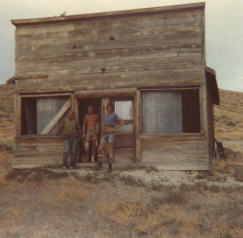 Steve, Rob & Pat in Front of an old building that no longer stands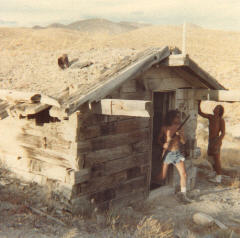 Jon & Pat check out a Nearby Building



Tents were set up in 1907 after discoveries of jewelry rock in the area. Activity soon faded until a gold discovery in 1930 by brothers James and Charlie Scossa. A small town was soon laid out, and large gold production began. Scossa prospered until the veins ran out in 1937. Scossa lay abandoned until 1971 when Will and Betty Lou Hebert moved into the Scossa brothers' house and proceeded to fix it up. The house had no doors or windows and was in pretty bad shape. They salvaged lumber and nails from some downed cabins higher up on Mt. Scossa and used them to build onto the house. They added the dining and living room area plus some repairs to the inside of the other rooms. Betty and one of her sons, Rolfe, hauled slate slabs from off the mountain above the old saloon/store and built the patios. While remodeling the inside, they found a secret compartment between the two bedrooms across from the dining and sitting area they added. They found Charlie's cane, his gold mining pan, some fishing rods, and a few odds and ends. Eventually they acquired 20 gold mining claims, bought a dry washer and started mining. They set up in the gully that ran behind the house to the south. Gold was worth $32.00 an ounce at that time! Will would take their gold to a bar in Lovelock for measuring and payment. They made enough to survive and remained in the house until 1976 when they moved to Idaho. They would occasionally return to spend a weekend in the Scossa house until 1981. In 1987, the BLM reclaimed the land due to a lack of mining related activity.

We have made many trips to Scossa since the early 70's. Although we had never met Will and Betty, it was obvious that someone was maintaining the property. We have camped there many times, but have either stayed in the covered patio or on the ground outside. On more than one occasion we have seen rats the size of cats in the main house. Betty and Will also had the same problem, but controlled it with 3 cats. So as not to damage the house, we refrained from shooting the rats, choosing instead to camp outside. We never had a good night's sleep in Scossa. We were always awakened by strange noises. Naturally we thought it was the rats trying to get at our food...but investigation always found nothing. Strange lights sometimes appeared in the distance. Again, investigation found nothing. One of Betty's e-mails to us said in part about the noise & lights "Think nothing of it! It is common in that area and also at Rabbithole. I did not believe in ghosts until I lived there!! I was so nervous about living there, but it didn't take long to accept what was going on even if I couldn't explain it!"

The Scossa house remained in the excellent condition as shown in our pictures until sometime around 2004 or 2005 when it burned to the ground. Only Will's tool shed remains standing.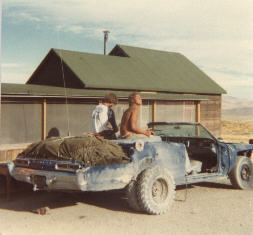 The Cheap Jeep in front of a Perfect Building (before the fire)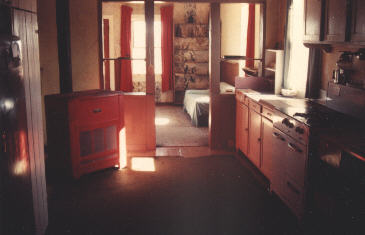 A Perfect Interior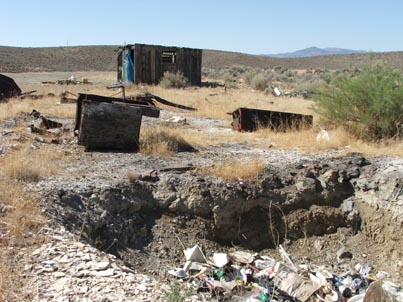 This is Where the Main House Once Stood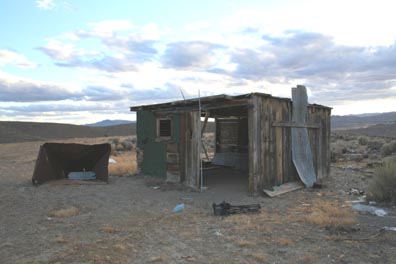 Will's Toolshed still stands today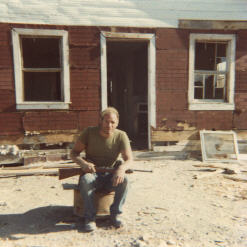 Picture of an old Building from our 1970s visit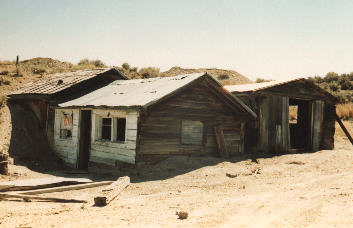 More Buildings Located About A Mile West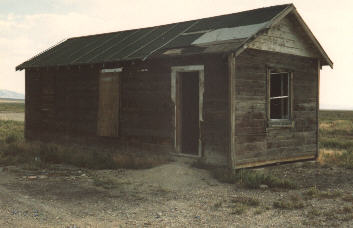 Another Nearby Building


More Scossa (and area)

Back To Main Page